Buried in the Washington Post's Fashion & Beauty section is
an article by Robin Givhan
about how Dick Cheney managed to disgrace the United States at the recent ceremony to commemorate the liberation at Auschwitz.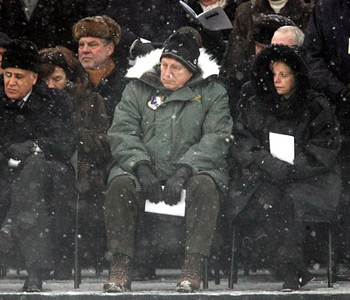 Message to Sick -- I mean Dick:
Love the way you fit in there, Dick -- good job. The solemnity of the occasion is raised to a whole new level with your thoughtful choices. The ski cap and the faux-fur trimmed parka add just the right touch. (I don't care what
Mr. Blackwell
has to say!) You look like a man with a message -- someone burning with the desire for freedom to be made over by a few fellas who
really
know their fashion.
Or at least like somebody that was expecting something really
cool
like a football game with maybe some beer or something, instead of some boring thing that went on & on and it was
outside
in the cold already! Geez, can't a guy catch a break?!