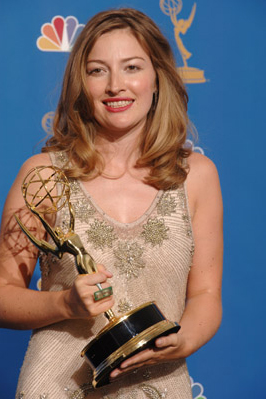 The lovely & talented Ms Macdonald, proving there is at least some slight justice in the world. (Wireimage photo)
... and so is
The Girl in the Café
. I really loved that movie (& have been a staunch admirer of Kelly Macdonald's for years) and was thrilled to see it win for best made for TV movie. It's sort of a little movie that could, given that though the backdrop is global in scope, it's a very intimate story of romance between two lonely people. And it's marvelous. Richard Curtis crafted a lovely script and the leads ran with it all the way to the finish line without taking the slightest mis-step. Bill Nighy (who should have been nominated -- and should have won) and Kelly Macdonald created a wonderful & unique chemistry in their portrayals of two lonely souls who meet by chance, and find some emotional kinship even as they lack any common ground whatsoever.
Macdonald was up for Best Supporting Actress in a miniseries or movie, though by rights she should have been up for Best Actress. I hadn't given her a chance in hell of winning, because she was up against a formidable array of talent (3 Oscar winners and an Oscar nominee). I was so very pleased that she won. (Even if she herself was not, saying afterward that she'd hoped someone else would win because it's all so "nervewracking.") For ten years, this woman has given a series of terrific performances, several standout performances (including her first role, as Diane in
Trainspotting
, and in the under-appreciated but absolutely charming
Two Family House
, amongst many others), and one absolute knockout performance (
Stella Does Tricks
). It's high time that she got a bit of acknowledgement for it.
In case you don't know, Macdonald is a petite Scottish actor from Glasgow who landed her first part via an open casting call. Playing Ewan McGregor's club pickup who turns out to be a schoolgirl, she has very little screen time in
Trainspotting
but gives such a remarkable performance that she's one of the things you remember most about the movie after the fact (her & the Worst Toilet in Scotland ... hmm ... well, anyway ...). She turned 20 the day the movie opened & has a talent for not just giving exceptional performances but also for choosing exceptional material, often very quirky material (the charming
House!
springs to mind), that ends up becoming a compelling finished project:
A Cock & Bull Story, Tube Tales, Some Voices, Gosford Park
, the superb television drama
State of Play
, to name just a handful.